iPad Air First Impressions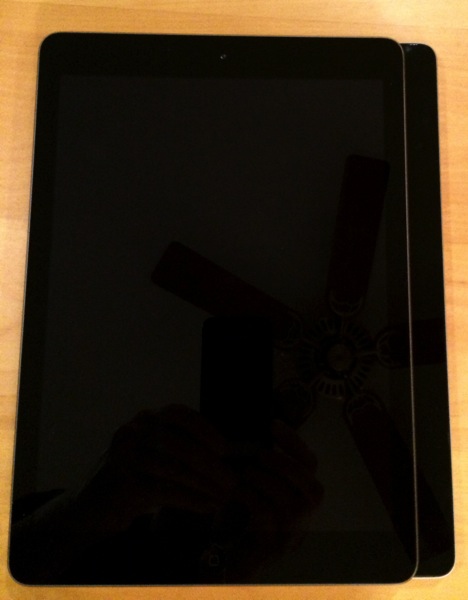 I headed over to Best Buy first thing Friday morning… they opened at 8AM and handled the iPad Air rollout very nicely. It was raining hard… they gave reservations for particular units to people who were there early and didn't make anyone stand in the rain. (They also handled the iPhone 5 very nicely, even making appointments for people to come in to activate their new phones - not as streamlined as pickup at Apple but still pretty civilized).
I don't think there were more than 10 people there at 8AM. I was in and out within a few minutes. I went home, backed up my old iPad to iTunes, connected the new iPad and restored. The whole process was very painless (hint: to help keep it painless, choose the option to encrypt your backup - otherwise iTunes will intentionally not store passwords and authentication information in the backup).
[updated: You can also backup and restore through iCloud - I chose to use iTunes because doing a local backup and restore over USB is much faster than doing a backup and restore over the Internet. I normally have my iPad and iPhone set up to backup to iCloud and I recommend you do that as well]
The new iPad is slimmer and lighter than the previous generation. The screen is the same size. It was about 1/3 less. The difference in feel is remarkable. It's quite comfortable in my hand. The difference in comfort is surprising.
The fingerprint scanner on the iPhone 5S seems to be limiting the production rate of the new phone, so I would have been shocked if it made its way into the new iPad this year (although I expect it next year, and expect to see it on Apple's computers eventually, too). Still, I've gotten enough used to it on the phone that I would love to have it on the iPad.
I'm also very impressed that Apple managed to shrink the size and still get a very large performance bump. I would expect next year's update to be much more modest.
If you use an iPad regularly, it's well worth checking out the new model.
Funny thing - of course Apple is matching the iPhone 5S colors on the iPad Air (except for gold) - so black is no longer black; it's "Space Gray". Except in the box. Which still says "black".